Vinyl Transparent Stickers: perfect on everything!
Whether you are 5 or 50 years old, if you are reading this article you will surely be a lover of stickers! We all have that craving to decorate a personal object, to create, color and personalize everything we can. Stickers are great allies in this!
For this reason, today we have decided to give you some creative ideas to use them.
Let's start with a small dilemma, people buy stickers to decorate a notebook, a scrapbook, a diary but then they are afraid to use them. WRONG!
Vinyl transparent stickers, especially if they are good quality, should always be used without fear. They contain that creative essence that always makes us feel like children.
This article will give you a very short but incisive list of what you can do with vinyl transparent stickers in everyday life.
PLANNER STICKERS
At the top of our list is one of the most popular ways to use our beloved stickers: decorate your planner. Yes, it is not enough to have long lists of appointments, commitments, things to remember. It is good and right to use stickers to decorate a planner and make it as colorful as possible. This is the best way to face everyday life!
STICKERS TO DECORATE PHOTO ALBUMS
Many believe that photo albums are old, unfashionable. So wrong! Usually all our memories are lost in our phone, it would be great to buy an album or simply a notebook to fill it with beautiful moments. However, this is how stickers come to the rescue and help us create!
STICKERS FOR PHONE
It seems obvious but, instead of buying all the same covers for your smartphone, why not buy a simple one and then decorate it with vinyl stickers? This is how you will make your mobile unique and always customizable.
STICKERS FOR SCHOOL
Studying, planning, organizing is already very difficult. As for our planners, we could use stickers to decorate a notebook full of notes or enrich school clipboards.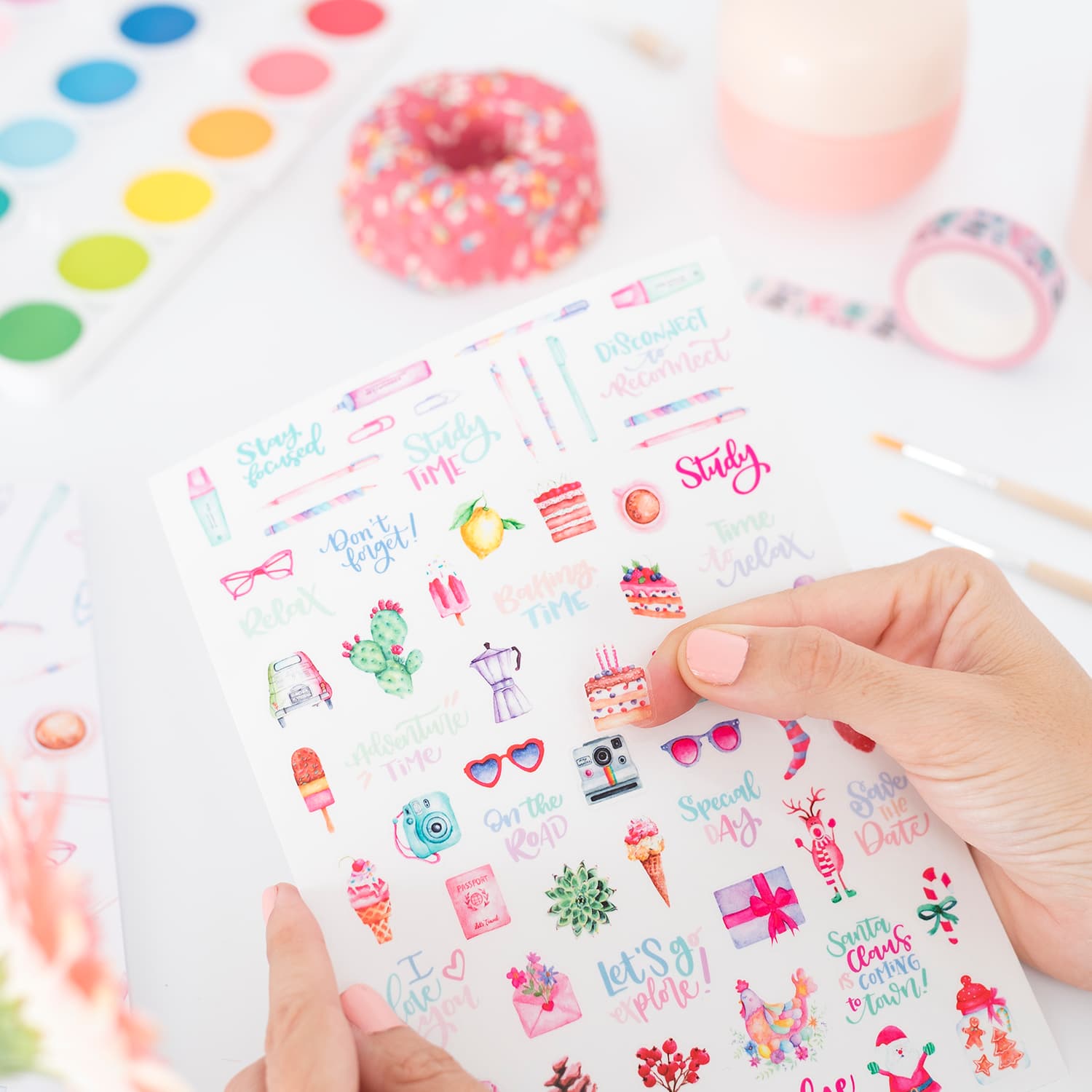 BULLET JOURNAL STICKERS
Bullet journal lovers already know that the great allies of their planning are stickers. Except that it is often difficult to find beautiful ones. Continue with this article and we will show you the perfect stickers to decorate your planning.
STICKERS FOR KIDS
You will never believe it but children have an immeasurable love for stickers. Shop a sheet full of colorful stickers and they won't stop decorating. They will stick every single sticker satisfied and happy. If you are looking for new ways to engage their creativity, this is one of them!
CREATIVE WAYS TO WRAP CHRISTMAS GIFTS OR GREETING CARDS
Christmas is not exactly around the corner but we give you some tips for a special gift wrap. Buy simple wrapping paper and decorate your Christmas gifts with some nice and unique stickers! It will be a special way to tell people you love that you have created a personalized package.
You could do the same for a Christmas card. Close the envelope with a special sticker, perhaps with a phrase or a beautiful illustration. You will give your card a personal touch!
WHERE CAN I FIND THEM STICKERS SUITABLE FOR EVERY USE?
Well after having listed many ways to use vinyl transparent stickers, you are wondering where to buy planner stickers, or bullet journal stickers, etc. etc.
The answer is unique: here in the Very Wonder Shop! We have a selection of stickers with our most beautiful illustrations. They are not the usual stationery stickers, however, we create water-repellent stickers suitable for any surface. You can use them anywhere, you just have to be creative!
Have fun!