LOOKING FOR EASTER CREATIVE ACTIVITIES?
Easter is right outside the door! This week we try to suggest two Easter creative activities to do with paper.
What we are going to show you are two simple insights to create something cute for Easter! This is the perfect time to find new funny ways to spend time at home. These activities are perfect to involve both adults and kids. So, without further ado…let's discover these creative ideas for a colorful Easter!
Easter Origamis and more…
Origami art is an extremely funny way to feel creative and make something cute for a special event! Marta from Origamate is the perfect "teacher" to help you create a cute origami for Easter week! She has a website full of tutorials that will help you to make the sweetest creations with paper. Marta also published a book (in italian) to create beautiful origamis with your kids.
In occasion of Easter, she published a super cute video for creating an Easter egg in her Instagram page. It is extremely easy to make and we also want to suggest you more ways to use it! Read below…
 1. ORIGAMI EASTER EGGS TO DECORATE HOME WINDOWS
Once you made your origami, you can perfectly use it for decorating your home! Use different types of paper to make it even more colorful. Add a nice writing or more decorative elements.
2. ORIGAMI EASTER EGG FOR A GREETING CARD
Origami are extremely versatile so you can decide to glue them everywhere. We suggest to make cute Easter greeting cards to give your family members or friends. Place it on a homemade greeting card and make your Easter more creative!
 3. ORIGAMI EASTER EGG TO DECORATE YOUR TABLE
Be creative and use your origami eggs to decorate your Easter table! Use them for placeholders or making a composition for a centerpiece. Use imagination and try!
Colouring Easter Symbols and more…
Colouring is one of the easiest ways to spend time! This time we don't simply suggest you to "color" a draw but we want to give you more inputs to use it for more creative activities during Easter time.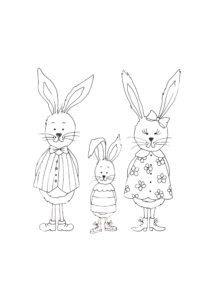 1. COLOURING USING MULTIPLE TECHNIQUES
One way to use your Easter colouring sheets is to improve using more techniques to color them! Don't simply use the same way to be creative and color each draw challenging yourself. Discover which is the best way to be creative. Use crayons, watercolors, pencils and all the techniques you know. Be creative!
 2. COLOURING AND MAKING UP A STORY FOR YOUR SYMBOLS
After colouring your sheets, why don't you make up a story about it? This way to use a colouring sheet is perfect especially for kids. You can try to create a funny story that talks about what you have just coloured. Try it! It can help you to spend time and let imagination work.
 3. COLOURING AND CREATING CUTE PLACEHOLDERS
Another funny way to use your coloured symbols is to use them as placeholders for Easter lunch! We suggest you to print sheets in a smaller scale in order to have symbols that can be placed on a plate or glued on a wood stick to be rested on the table.
Well…we think we gave you enough information to create. The only thing left to do is to give you three amazing colouring sheets for Easter! Click here and follow instructions to download them!